2001 Alaska Motorcycle Trip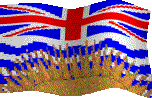 May-June
Day one: The start of this trip is Hottsdale I mean Scottsdale, Arizona. It's 105 degrees and the sun is blazing. The new Jesse panniers are finally loaded, the GS is really heavy now and doesn't want to come off the centerstand. The temperature the last few days has been building and I am headed north. I ride up I-17 to Az. 69 and go to Prescott. Prescott is a nice town about 1 mile above sea level so it is already much cooler than in Phoenix. From Prescott I take 89A up over the Mingus Mountains to the cool old mining/artist town of Jerome. Staying on 89A next it's Sedona and the beautiful red rock country of Oak Creek Canyon. I stop for lunch at a diner, having a chile burger and a chocolate banana milkshake, yummy. Riding up the canyon and into Flagstaff I call it a day and settle in to my hotel and watch some hockey playoffs. Not a long day,only about 175 miles but it was a great way to test the bike and it's load.
Day two: Through the Navajo reservation on 89 and into some very bleak and desolate country. There are places here that remind me of Patagonia in Argentina, no trees and windy all the time. You would think there is not much to see along such lonely roads but that is not the case. The changing colors of the desert as you ride along and the soaring birds moving along the thermals of the cliffs make for excellent company.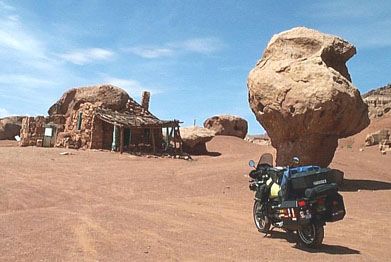 Turning onto 89A and riding along the north rim of the Grand Canyon the elevation rises from Marble Canyon to Jacob's Lake as I climb up the Kaibab plateau. Coming down the other side brings me to the Utah border and Kanab, home to many John Wayne westerns. Fuel up and a snack and back on 89 past Zion and Bryce Canyon National Parks, both of which I've been to many times. Spending the night in Provo, Utah. 475 miles ridden.
Day three: A boring day of Interstates 15 and 84 to Boise, Id. a windy day, oh how I hate the wind. 385 miles ridden.
Day four: From Boise goes on Id. 55 along the Payette river an Idaho scenic byway. US 95 along the Salmon river was next and it was covered for miles bank to bank with people fishing. Spokane, Wa. was my destination for the night. 400 miles ridden.
Day five: Another boring superslab day on I-90 to Seattle. I stop at Ride West BMW to make an appt. to have a Touratech 41 litre fuel tank installed along with some new tires and some other minor things before the push north into Canada. 325 miles ridden.
Day six: I spend doing laundry, hanging out in the sun(what great weather I brought with me to Seattle) and updating the web site. 0 miles ridden.
Day seven: I do bike maintainance and watch hockey. Go Avalanche! 25 miles ridden.
Day eight: I'm off to Mt. Rainier National Park. I buy a park pass for $50.00 USD that covers entrance fees into all the national parks. As I plan on going to many on this trip it was a good deal. I take Wa. 410 over Cayuse Pass, there was plenty of snow along the road. Then Wa. 123 to the Stevens Canyon Entrance. Wa. 706 The road thru the park had just opened, the traffic was light and the day was sunny. What a great day. 250 miles ridden.
Day nine: I spend all day at Ride West BMW having tires and the huge Touratech 41 litre fuel tank installed on the beast. I also buy the tank bag to fit because my BMW one won't work. Also I have to buy the crash bars from Touratech because my H & B ones won't fit. So I spend alot more money than I had budgeted. Looks like I will be doing more camping. The people at Ride West were very nice and helpful, the only problem was them having all the goodies and me needing them. 50 miles ridden.
Day ten: I'm packed and ready to go north. The weather is nice but there is a change coming. I take I-5 to Wa. 20 and that to Wa. 9 and the border at Sumas. I am told to go inside where I'm asked some questions and have my bikes bags looked into briefly. I stop in Abbotsford to get some Canadian money from an ATM and get on the Trans-Canada Highway 1 and start thru the scenic Fraser River Canyon. I stop for fuel and a snack in Cache Creek where I join Ca. 97 the Cariboo Highway. I continue on to 100 Mile House where I stop for the night. I go to a great restaurant called Happy Landing serving Swiss food. I had Veal in Mushroom cream sauce and Rosti. 375 miles ridden.
Day eleven: I wake to mostly cloudy skies and cooler temps. Staying on 97 I pass Williams Lake and see a moose in the willows by a pond. I go to Prince George where I turn onto 16, the Yellowhesd Highway.
The rain started around Vanderhoof and stayed with me the rest of my day. I decide to stop at Tyhee Lake Provincial Park for the night. 425 miles ridden.
Day twelve: I wake to rain and cold. My original plan was to take the Cassiar Highway today but am interested to see Prince Rupert. I arrive in Prince Rupert and go to an internet cafe where I enjoy a large cup of tea and a scone. I catch up on some e-mails and then go have a look at the ferry terminal. I didn't want to stay in Prince Rupert for the night so I headed back towards the Cassiar. I stopped for the night at the Kleanza Creek Provincial Park had some pasta and read until I fell asleep. 350 miles ridden.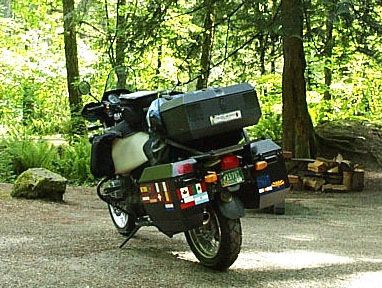 Day thirteen: I wake to partly cloudy skies. After some tea and oatmeal I pack up and head towards the Cassiar. I am a little nervous today because I've been told that the Cassiar can be tricky if it has been raining. The road started out great, mostly dry and not much traffic.
After about 100 miles it started to rain lightly. The road was getting a little slick in spots. The truck traffic picked up and the grooves their tire treads left in the road made for some fun. It felt like I was riding on a road that had just been stripped of it's pavement, with all the wavy grooves. The bike would wander a little and coming downhill into a corner was interesting but it wasn't too bad. I had a bear cross the road in front of me about 50 yards ahead, boy was she moving. I stop for fuel in Dease Lake and decide to continue on to Watson Lake and get a hotel. The rain had picked up and it was now pouring. I get a pizza and a few beers from the restaurant and plan tommorrow. 550 miles ridden, approx. 150 gravel.
Day fourteen: It is still raining hard. My plan was to take the Campbell Highway and go to Dawson City. But with the heavy rains and being alone I chicken out and instead take the Alaska Highway. First I take the obligatory photo of the famous Watson Lake sign forest.

I continue on the Alaska Highway and stop for fuel at Swift River. I am met at the pump by a guy with a Pancho Villa Moto Tours shirt on. He introduces himself and invites me in for some coffee. We chat for awhile and I go outside to get something from my left tank pannier and the zipper holding it to the base breaks. I don't want to mess with it in the rain so I pack it away and head on. The day was pretty cold, wet and windy and I only use heated grips(got to get a heated jacket liner). I stop for the day in Whitehorse. I get a hotel and go to a fabric shop to see if they can repair the zipper. There is a piece missing so it cannot be repaired. I don't want to mess with putting a new zipper on so I will figure something else out. I get a sandwich and some beers and settle in for a hockey game. 300 miles ridden.
Day fifteen: It is still raining. I am sick of the constant rain. My plans keep getting screwed as I had hoped to go to Dawson City and do the Top of the World and Taylor Highways. Again I decide not to do the gravel and head for Fairbanks. The Alaska Highway thru this area is constantly changing but for the most part it is a long and wet day. I stop in Beaver Creek to do customs into the US, no hassles here. After crossing into Alaska I fill up the bike and take off again. I get on the Richardson Highway at Delta Junction to Fairbanks. When I arrive in Fairbanks it is starting to clear, I get a hotel and call it a long day. 610 mies ridden.
Day sixteen: Is a much needed rest day. The weather is partly cloudy and the forecast calls for better weather. I did not get on the bike at all and figured out how to do a temp. repair on my tank pannier. I used a sewing kit and stitched the bag onto the base, hope it holds on the Dalton tommorrow. I wander around downtown for the day, looking at monuments, update the site and do laundry. Dinner was a ten layer lasagna and a glass of chianti classico. 0 miles ridden.
Day seventeen: I am going to do the famous Dalton Highway to Prudhoe Bay. The day is partly cloudy and I'm hopeful that the road construction isn't too bad. I take the Elliott Highway about 85 miles out of Fairbanks and then get on the Dalton. The road is pretty wide for about 20 miles and then it narrows down. As I travel along I see mostly large semi's on this haul road to the oil fields of Prudhoe Bay. After another 60 miles I get to Yukon River Bridge, the only bridge across the Yukon in Alaska. I fuel up and head on to Cold Foot. Along the way the pipeline is visible almost always.
Another 70 miles up the road and I get to the Arctic circle. There is a monument and I take the tourist photo and one of my GPS screen.
About 20 miles after the Arctic Circle I hit some road work. They had just laid down some dirt on the road about 18 inches deep and at least 1/2 mile of it. The packing roller had not been thru yet and I had a tank slapper and had to stop twice in the middle to straighten myself out and start picking up momentum again. I almost bit it twice in this stretch. After this section the road seemed almost paved for about 35 miles into Cold Foot. I stop for some lunch and inquire about places to sleep tonight. There is a small inn but they wanted $135 for a room. I went about 10 miles past Cold Foot to the Marion Creek campground. I am told by the host that a grizzly bear has been in the area and to be careful with my food. Needless to say I did not sleep well in my tent that night knowing of the bear but didn't hear a thing all night, if you can call it night. It did not get dark at all and and the mosquitos were out in force. 275 miles ridden, approx. 200 gravel.
Day eighteen: I wake to mostly cloudy skies. I go back to Cold Foot to fuel up for the 244 mile push to Deadhorse. Having breakfast at the restaurant I hear truckers talking about how the road is closed about 60 miles north of Cold Foot because of an accident. It seems that a truck carrying pipe lost it and rolled on the road. No one knew how long it was going to be closed. Highly disappointed at this I have no choice but to turn around and head back to Fairbanks. On the way back it had rained earlier and the construction had turned to mud. Great. I have a few close calls but manage to keep the bike upright. Arriving back in Fairbanks I get a hotel and try to clean up a little. The bike is a muddy mess and I will rinse it off tommorrow. 275 miles ridden, approx. 200 gravel.
Day nineteen: I take the bike to the car wash. I must have hosed about 20 pounds of mud from the bike. I make a trip to Trails End BMW and meet George the owner who has been a BMW dealer here since the early sixties. He is a very interesting guy with many good stories and it is by far the most unusual BMW dealer you will ever see. If your in the area be sure to stop by. 30 miles ridden.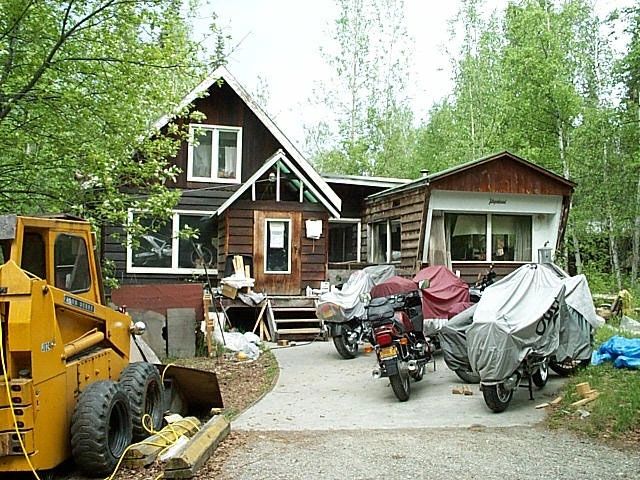 Day twenty: I decide to go back and do the Taylor and Top of the World Highways. The weather is partly cloudy and I make my way to Tok where I stop at Fast Eddy's for a burger and then on to Tetlin Junction and the Taylor. The first 30 or so miles were paved and then it turned to gravel. As I got closer to Chicken it clouded up and started to drizzle. The road narrowed and there were alot of motorhomes. I stop in Chicken and fuel up and have a snack.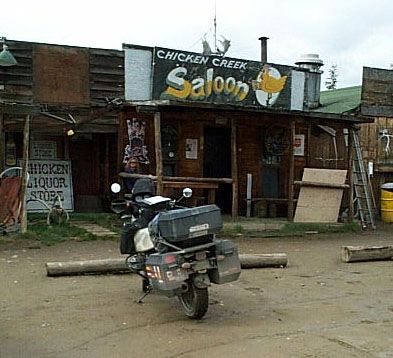 The road from Chicken is a little slick but it is a fun twisty gravel road and very busy. I then get on the Top of the World and make my way thru this scenic area to the border. The road into Dawson City is very good with not too much construction and I arrive at the ferry crossing and wait for the free ferry to take me across the Yukon river. As I wait there is a tourist paddle wheeler on the river which by the way is moving pretty swiftly.
I have a look around Dawson City which reminds me of some of the mining towns of Colorado. I then go to Diamond Tooth Gerties the casino and play some blackjack where I win about $150. I decide to spend some of my winnings on a nice steak dinner and a hotel for the night. 400 miles ridden, approx. 80 miles gravel.
Day twenty one: The weather is cloudy and cool and I've decided to make my way to Skagway and try and catch the ferry to Bellingham. I take the Klondike loop back down to the Alaska highway and then turn off at the Klondike highway 2 and make my way over White Pass and down into Skagway. As I enter town I start looking for a place to spend the night and I spot a couple of Harleys with New Mexico plates at a motel. Low and behold my good buddy Gordon and his crew are in town. Gordon and I were in South America back in January and February and I knew he was up here somewhere but had no idea where. He is surprised to say the least and we go have some beers and catch up on life. We go out to dinner and I find a motel for the night. Gordon has reservations for the ferry tommorrow so I will try and catch that one. I don't have a reservation but have been told that motorcycles are usually not a problem. 450 miles ridden.
Day twenty two: I meet Gordon for breakfast and then make my way to the ferry terminal to see if I can get on the ferry. There is a waitlist and I put my name on it. My number is called and yoo hoo I get a ticket and then go get my stuff and hang out with Gordon until the ferry arrives. 3 miles ridden.
Day twenty three thru twenty five: The Alaska Marine Highway System. I'm sleeping in the recliner lounge area and enjoying the scenery of the Inside Passage on the way to Bellingham, Washington.