January, 2008 I bought a 2000 Kawasaki Super Sherpa.
I bought it to carry on the back of my Lazy Daze RV.
I added a Garmin Zumo 550 GPS and changed the paint from the ugly Kawasaki green to silver with black fenders.

July, 2004 I bought a V-Strom DL650.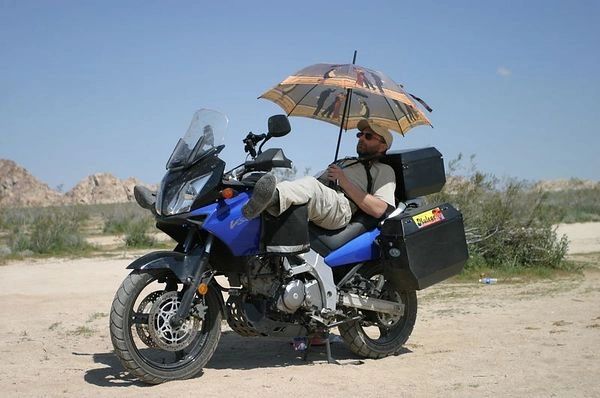 I've added SW Motech centerstand, crashbars and skidplate.
Al Jesse Odyssey side boxes along with a Jesse 45 liter top box.
Hindsight relfective tape to Jesse Boxes. This stuff really lights up the back of the bike at night.
Fastway Evolution F4 footpegs were modified to fit.
A Tank Locker Tank Bag..
Aerostich Tank Panniers were added and provide great wind protection.
Added Centech fuse panel under seat and wired up the heated grips and GPS to it.
Installed a Jastek Powerlet 12v socket on the left cowl. This can be used to recharge a cellphone or iPod.
Installed a Heattroller in the left cowl next to the Powerlet to control the grips.
Hardwired the Garmin GPSmap 276c and mounted it using a RAM mount.
Installed Magura EX Line Aluminum handle bars using Magura adapters to change from 22 to 28 mm.
Also installed a Dual Star Heated Grip Kit and Pro Grips. KTM 950 handguards finished off the handle bar change.
Continental TKC 80's were used for a trip to Baja.
I broke the lower spring mount for the SW Motech centerstand on a gravel road. Repaired centerstand by welding on new nipple.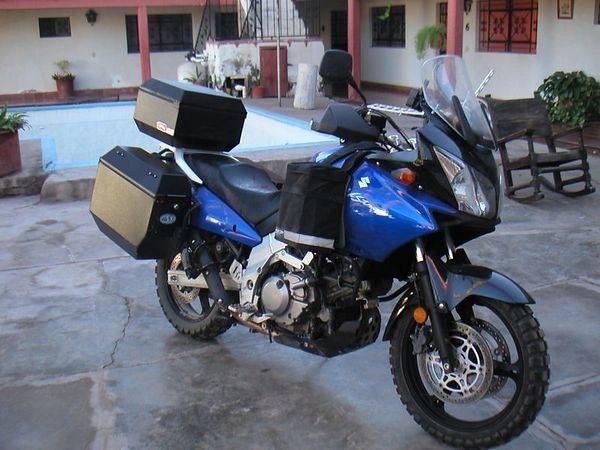 1997 BMW R1100GS
After 4 years, 4 continents and 90,000+ miles, I sold my Beloved R1100GS.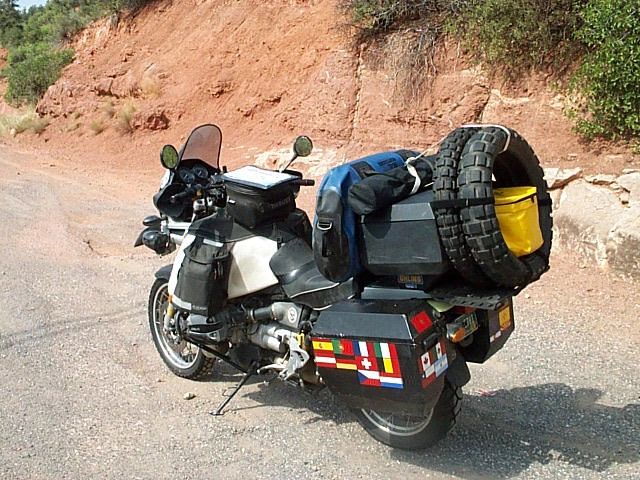 What the hell is all that stuff!
Touratech 41 Litre Fuel Tank (unpainted)
Touratech VP45 Tank Bag (reinforced)
Touratech Engine Protection Bars
Touratech Hard Parts
Touratech Mini Indicators
Al Jesse Odyssey Panniers (for Staintune Low Pipe)
Al Jesse 65 litre Top Case Al Jesse Custom Top Case mount
Staintune Low Exhaust System
Ohlins Shocks (Modified by Stig at PPS)
RCU Design Bar Backs
RCU Design Light Bar
PIAA 910 Driving Lights (Wired with BMW European Switch)
Top of the Line Headlight Guard
Top of the Line Exhaust Guard
Best Rest Tail Rack
Corbin Solo Seat w/ Backrest
Wudo footpeg Lowering Kit
Givi Windshield
Garmin GPSmap 176c
Ram GPS Mount
Aerostich Tank Panniers
K & N Air
Filter Bigfoot Side Stand Enlarger
Flip-A-Lever Throttle Lock
Front Mud Flap Extender
Other Stuff I Use
Aerostich Darien Jacket
Aerostich Kanetsu Electric Jacket Liner
Aerostich Darien Pants
Held Gloves
Schuberth Concept Helmet
BMW Goretex Boots
Bibler Ahwahnee Tent
Western Mountaineering Ponderosa Sleeping Bag
Sevylor CMR20 Camping Mattress
MSR Dragonfly Stove
MSR Blacklite Cookset
MSR Camp Kitchen
Camelbak
Kermit's Camp Chair
OR Dry Bags
Petzl Headlamp
Fujitsu Laptop
Kodak Digital Camera
Nikon Binoculars
Bike History
18,000 miles. Switched to Mobil One in engine, transmission and rear end.
36,000 miles. Transmission replaced under warranty, hard upshift 2nd to 3rd.
72,000 miles. Broke sub frame in Copper Canyon. The load finally got me.
73,000 miles. Broken speedometer cable.
75,000 miles. Broken upper throttle cable.
82,000 miles. Transmission replaced AGAIN, 2nd to 3rd AGAIN. BMW wouldn't help with the cost.
84,000 miles. Oil sight glass blew out.
89,000 miles. Leaking differential seal.